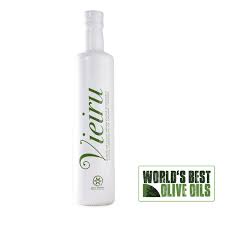 EXTRA VIRGEN OLIVE OIL
"VIERU" 52 AWARDS IN
TWO LATEST SEASONS
Characterized by its fruity intensity with remarkable banana, apple and freshly cut grass aromas and its greenish-gold colour.
Extra Virgin Olive Oil Obtained Exclusively From Autochtonus Olive Variety "Manzanilla Cacereña"
Olive oil "Vieru As Pontis"
For 3 Years, among the 10 Best Organic Oils in the World
THE BEST EXTRA VIRGIN OLIVE OIL 100% MANZANILLA CACEREÑA OLIVES


The olive oil "Pago Baldios San Carlos, regularly ranked among the best oils in the world.
Several times ranked in the Top 10
.